Products
September 18th, 2017

Sheathed fuel injection pipes
Hydrotest Systems is specialized in the development of sheathed and conventional fuel injection pipes for the marine, power generation and transportation industries. To comply with safety and environmental rules (such as SOLAS) Hydrotest Systems developed the high-end HYDROSAFE® sheathed systems with Lloyd's approval. How does HYDROSAFE® work? The basics are simple. Leakage from the inner high-pressure pipe is collected by the outer pipe, detected and safely discharged.
In consultation with Lloyds Register of Shipping (LRS), the majority of our fuel lines are developed under Lloyds type approval. In case of special or different fuel lines, Lloyds will perform the inspection on site. Besides our high-quality standard, product fitment and easy assembly are of great importance.
Both standard fuel pipes and specials are manufactured or repaired for OEM, marine, automotive and offshore clients, even also for diesel specialists such as professional tractor pulling teams worldwide. Hydrotest Systems has long term experience in delivering fuel pipes on time and with the highest quality to suit the needs of major engine manufacturers.
Delivery on short term
We have created our own modern production line to be able to deliver products on short term for multiple engine manufactures and engine types. Fuel lines and supporting spray shields for several common rail systems are also available.


Engineering
Using the latest state of the art CAD system and measuring systems our engineering team has the ability to produce solutions for new engines and older legacy engine designs. We can import from all popular file formats directly into our CAD system or record data direct from an engine or installation using our measuring equipment in the situation where drawings are not available. Hydrotest Systems can also help to offer SOLAS compliance and spare part support for older engines by either working from archive drawings or reverse engineering existing fuel pipes.
Conventional and double wall fuel line design
New engine fuel system design
Common rail systems
Leak detection and spray shield solutions
On site scanning and measuring
Reverse engineering

Experts in hydraulic automation and drives
Hydrotest Systems offers a wide range of hydraulic activities. We are specialised in engineering and production of complete systems, including installation, safety and control devices.
Guaranteed high quality
High quality components, preventive maintenance as well as use of HYDAC equipment for on-line determination of oil contamination and off-line filtering for years of trouble free output. We can support with your existing maintenance system or set up a complete new maintenance package. We'll always find the best solution for the toughest engineering challenge.
Project Hydrolans®
Hydrolans® is another special project developed by Hydrotest Systems. Hydrolans® is a hydraulic powered device for under ground installation of cables and flexible pipes.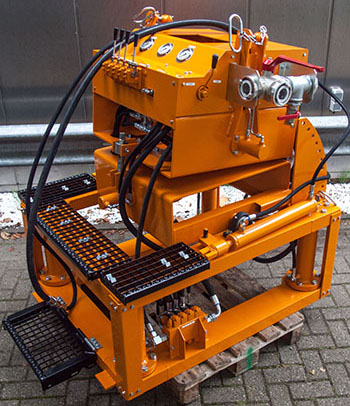 Hydrolans® developed by Hydrotest Systems

Gesipa blind riveting
As an official service point for Gesipa blind riveting systems, Hydrotest Systems offers pneumatic, battery powered and fully automatic blind riveting machines. A wide range of spare parts is available; repair at our workshop or on-site maintenance as well as engineering and production of tailormade blind riveting installations are all part of the Hydrotest Systems services.
Repair, advice and customization
Our large inventory of spare parts, factory trained personnel and years of experience enable us to provide full service for all your Gesipa equipment. Besides that, we can provide complete solutions and advice for any customization of blind riveting applications.

Disassembling and cleaning
We provide full service repair and maintenance for all Gesipa equipment. We will investigate the cause of any defect and/or malfunctions of a device. If necessary, the device is disassembled and cleaned to determine which components need to be replaced. We also check whether any parts or accessories are needed to complete your device.
Please contact us for further information before sending us your Gesipa equipment.
Documents
Hydrolans
Gesipa parts